Meet a Volunteer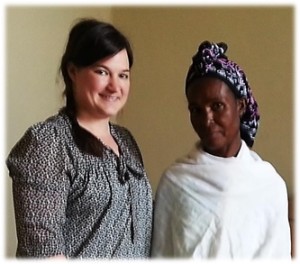 CRS Farmer-to-Farmer volunteer Elaine Kub (L) and Ethiopian farmer Bizunesh Tadesse (R) at a Board of Directors' meeting of the Bora Denbel Farmers'Cooperative Union in Meki, Ethiopia. April 3, 2015.
Even on road trips through the United States, Elaine Kub finds that seeing and learning about different regions' agriculture practices is the most interesting part about travelling. Having never been to Africa before, she was excited to participate in the F2F program simply to see what farming was like in Ethiopia, but her real motivation was the prospect that her time there could actually be used to increase profitability and food security for hard-working farmers. Elaine herself farms grain and cattle in South Dakota, which allowed her to build good rapport with the Ethiopian farmers she met. She has also worked for years in the agriculture industry — as a columnist and market analyst who wrote the book "Mastering the Grain Markets," as a cash grain merchandiser, and as a futures broker.
It was overwhelming, at first, to go from the lonely prairie of South Dakota to the densely-populated towns and countryside of Ethiopia. And despite being well-travelled in other parts of the world, as a solo woman, Elaine felt some hesitation about setting off to explore on her own. But CRS staff, the host organization, and friends she made in Ethiopia were always helpful and welcoming, and she quickly adjusted to their pace of life.
It was always possible to see similarities between grain market concerns in Ethiopia and the United States. Elaine and her host organization, the Bora Denbel Farmers' Cooperative Union, found common ground to discuss strategies for marketing maize and haricot beans. Elaine trained the co-op's staff, board members, and farmer members about value chain analysis and how value-adding operations could contribute greater profits into farmers' pockets. In this way, Elaine was able to leverage a business background and a love for agriculture into ideas that could alter the future of farmer profitability and food security in Ethiopia.
Meet a Farmer
Bizunesh Tadesse farms five hectares, a quite large and successful operation in her area, which is about 13 kilometers from the town of Meki, Oromia, Ethiopia. With the help of her six children, she grows wheat, maize, teff, and haricot beans, as well as tomatoes, onions, and other vegetables. Like farmers everywhere, she appreciates when a specialty crop, like the haricot beans, may have a profitable year, but typically the main problem for her farm is low or unprofitable prices for the grain she sells.
By working together with her neighbors in a multi-purpose primary cooperative, she is able to collectively purchase cheaper inputs like seed and fertilizer, and collectively sell more efficient quantities of grain to large buyers. Bizunesh is a leader in her community, actively participating at her primary cooperative, and because her neighbors recognize how well she works and produces, she was elected to represent her primary cooperative on the Board of Directors of the Bora Denbel Farmers' Cooperative Union, the parent organization of 65 primary cooperatives.
Elaine Kub met Bizunesh while providing value chain analysis training at a meeting of the Bora Denbel board members. Bizunesh and her fellow board members were eager to understand and investigate strategies that would add value to their commodity crops, offering them a chance to capture more of the industry's value chain and pass it back directly to the farmers who belong to the cooperatives. Milling their maize into flour, for instance, could be done efficiently at the cooperative union level and sold directly to consumers.
With greater income from the crops she sells, Bizunesh, now 45, would look forward to building a house in town so that her children could attend high school there and receive a quality education to build careers that could one day support Bizunesh into her retirement.